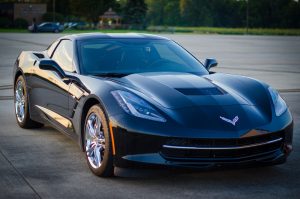 With a sleek body, lightning speed, and a reasonable price the Corvette boasts of becoming among some of the top sports cars in the American market. Even to the basic packs installed on the 2019 Corvette could bring a smile to an enthusiastic driver. Its fuel economy is quite decent and has supportive seats that make the ZR1 an absolute thrill machine on the road.
Exciting base model
The base stingray model has performance upgrades that are ready to be installed on this masterpiece. Its V-8 engine releases a horsepower of up to 460 when it is paired with an optional performance exhaust. Within 3.7 seconds the vehicle can clock a potential 0-60. These factors make it an efficient enough vehicle to consider for road trips.
Track ready model
For track purposes the Grand sport corvette 2019 offers the best model for the job. Along with it come great racing features from the manufacturer despite it not packing any extra power. To prevent the engine from heating on the tracks, an upgraded system to cool it off is installed. A great grip is maintained around the corners from its variety of wide tires. Larger brakes and a suspension tuned for the track are just about some of the components that can be upgraded. A ride control system that is magnetically controlled can also be tuned in.
Compelling style
The 2019 corvette boasts of its unique outline from other vehicles of its kind. Its flowing lines provide a likeability face for the long time fans of the brand. With a signature LED headlights combination it is quite difficult not to give the vehicle credit with an additional standard functional hood air extractor. The quad-outlet additions on the vehicle give much better visual excitement. Special wheels can be customized on the vehicle and a carbon-fiber trim also upgraded.
Great exhaust note
With an LT1 V-8 engine an aggressive rumble is expected to be produced by this vehicle. A phenomenal sound is produced by the exhaust while on optional performance. This is in comparison to the standard system which tends to be quieter. This factor makes driving the vehicle an even better experience however one could make it go quite at the touch of a button. To lower the volume there are some valve flaps meant to reduce the volume drastically. Works when one does not want to annoy neighbors while pulling out of the garage. Are you preparing a 2020 Chevrolet C8 for the track, read this comprehensive guide and learn in details.
Reasons to buy the Corvette 2019