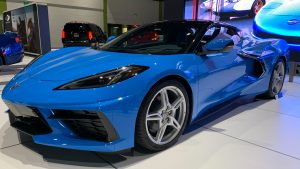 While only a small percentage of the new Corvette 2020 owners plan on racing with them on tracks some want to test the power in their hands. It, therefore, stands to reason with the Chevrolet Company on setting up their sports car containing a midsized engine with sporty handling dynamics. This planning involves road driving as well as rough roads reducing the tire life.
Breaking in
Before setting off for the track, the surety must be given that the corvette is broken in properly. A car just gotten from the dealership may not have all the dynamics ready to set it off for a rough ride. An instance could include the fact that the tires of a new car may have a slick film on them from the vulcanizing process during manufacturing. This, therefore, means that they will have to hit the road for a while to wear them out. Deciding for a burnout just after leaving the dealership could have a great impact on the tires. Such an experience will leave the tires worn out unevenly.
Braking
Most importantly an efficient braking system to curb the high speeds must be tested before hitting the roads. Burnishing of the brakes has proven to impact the grip on the braking system. This involves the breaking in of shoes and brake pads hence a better performance as well as a longer lifespan. The vehicle should be taken to a long stretch of the road that will allow high speeds followed by hitting the brakes to a reasonable force. The repetitive procedure is followed up to even ten times depending on the specifications.
Engine
Engine health is of paramount importance therefore the need for an oil change between durations of about 500 miles. The transmission also requires a check at the 1500 mile mark whereby it should be drained off with a fresh transmission fluid refilled. Additionally, the brake fluid must be checked before hitting the tracks whereby it is flushed and then refilled with the use of a substitute at high temperature.
Alterations
After all, the vehicle specifics have been broken in and the car feels stable some alignment specs can be altered to suit your sporty desire. Some compromises can be given to the drivability on the freeway with changes in the toe and caster whereby performance will improve. A grip on the corners will require some alterations which could also in turn be at the expense of the tire lifespan. This is the guide about how to prepare the 2020 corvette stingray for a track day please follow for more details.
Preparing a 2020 Chevrolet C8 for the track